Kitty's Quilts - Page 2
BLUE DAHLIA
Click on picture to see pattern!
This Blue Dahlia quilt was done for my other son, and although the Blue Dahlia pattern is a floral pattern, the background fabric pattern of old sailing ships and antique map items and the strong navy blues give it a masculine theme. The colors are all blues and whites and the backing is the same white with blue sailing ship fabric as the front. This quilt is all hand pieced and quilted and is a standard double bed size. The pillow top pattern and edge pattern are all part of the original pattern.
HIDDEN PICTURES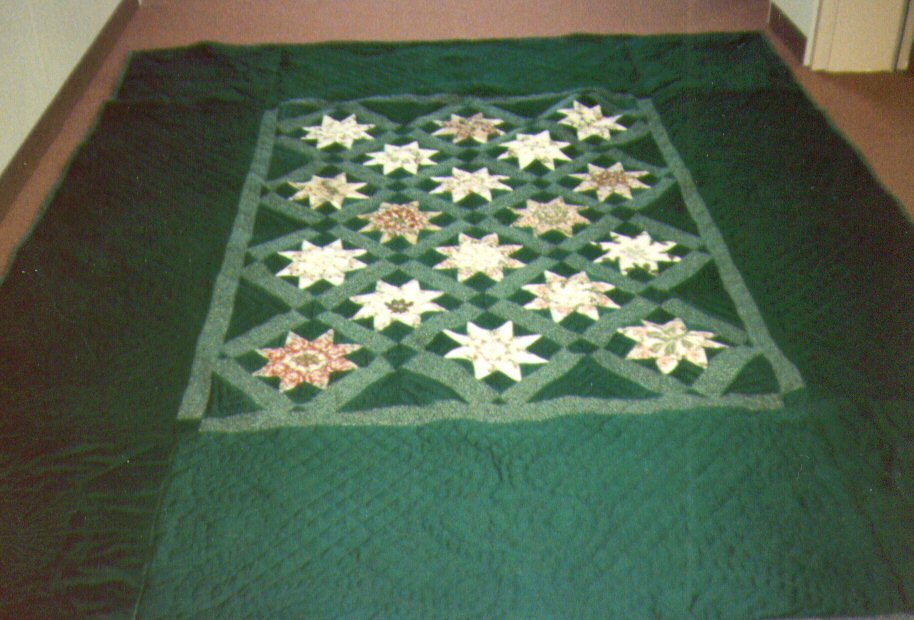 Click on picture to see pattern
This quilt was my first attempt at an all machine sewn and quilted quilt. It is called "Hidden Pictures" because the stars are cut from repeating type fabric so that each piece of the star is identical. When these peices are put together in the star shape, they each make a picture within the star, each picture unique unto itself. The completed squares around each star are bordered with a contrasting print, then set "on point" to make the diamond pattern around the squares. The Forest Green color was chosen by the person who was to receive the quilt.The backing is a small print predominantly the same green and is the same print that is on parts of the front.
| | | |
| --- | --- | --- |
| Kitty's Quilts Index | To NEXT Page | Email me Here |